Pirate Game Review - Assassin's Creed IV: Black Flag
Video games set in the period of the Golden Age of Piracy are not numerous, but when they do appear they almost always include many historical figures from that time. Assassin's Creed IV: Black Flag represents the best possible example of this practice, managing to effortlessly adapt historical Caribbean setting of 18th century into the fictionalized storyline popularized by all other games from the of Assassin's Creed games franchise.
Assassin's Creed IV: Black Flag follows the life of fictional Anglo-Wels pirate Edward Kenway (played by the actor Matt Ryan), who would later become father of Haytham Kenway, one of the playable characters in Assassins Creed 3 game. In addition to the traditional open-world traversal and combat that were popularized by previous games in this franchise, Black Flag also introduced the whole new concept of sea travel. After introductory sequence, character becomes pirate captain of the ship Jackdaw that can be upgraded with various enhancements during the long singleplayer campaign. Players then gain ability to travel all across Caribbean, visit large cities such as Havana, Kingston, Nassau, over 50 other locations (forts, ruins, underwater shipwrecks), and trade or fight against three main factions that are present in that area – Spanish, English and pirates.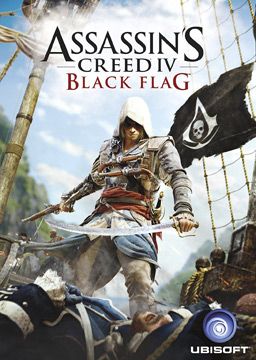 Over the course of the game, up-and-coming pirate captain Edward Kenway will encounter many historical figures that crossed his path. This even includes famous pirate captains Edward "Blackbeard" Thatch, Benjamin Hornigold, and Charles Vane who employed the service of young Kenway in their plan to conquer Nassau and form pirate republic. Other historical figures present in the game are of course the most famous pirate couple of all time – pirate captain 'Calico' Jack Rackham and his mate Anne Bonny. Female pirate Mary Read and "The Gentleman Pirate" Stede Bonnet are also part of the game.