Blackbeard in the Black Sails
American TV series Black Sails has managed to do what very few other motion pictures set in the Age of Piracy do. They managed to introduce an amazing version of Blackbeard into its cast, enabling the show that is centered around life and exploits of pirates to become even better than before. The show is an imaginative prequel to the events of the famous pirate novel "Treasure Island" that was written in 1883 by Robert Louis Stevenson. In it, fictional Captain Flint decides to execute a daring plan – unite all the pirate captains that frequent pirate haven of New Providence and use them on a mission to capture treasure fleet of incredible wealth.
Blackbeard becomes part of this show in its third season. Played by the actor Ray Stevenson, the Black Sails imagining of Captain Edward Teach falls in line with many historical descriptions of his attire, looks, mannerisms and tactical prowess. The mere mention of his name instantly ignites fear in pirates, authorities, and honest men. He is portrayed as a master navigator, skilled tactician, fighter and a man that appreciates military strength over political backstabbing.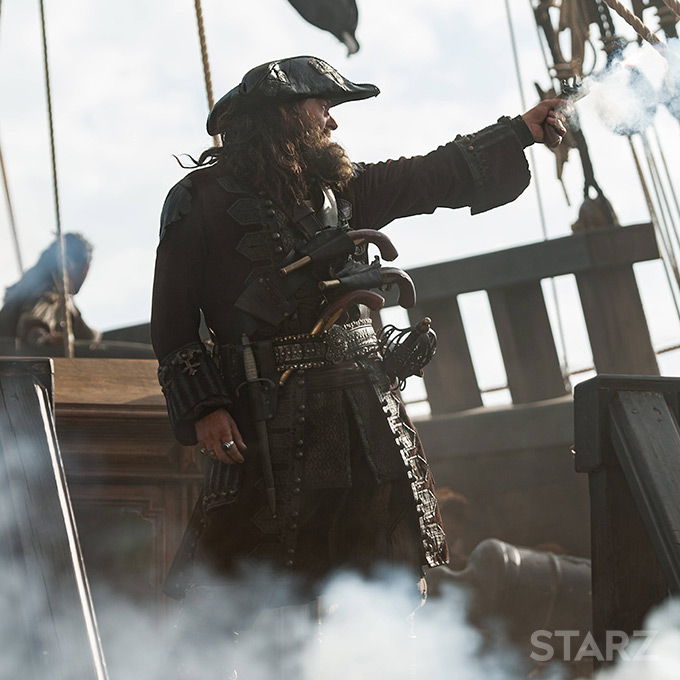 Blackbeard's arrives at the Nassau on the Bahamas island of New Providence to settle some of his unfinished businesses, which instantly disturbs many alliances that were formed by pirates in his long absence. He holds a close connection with his former protegee and now Captain Charles Vane who betrayed him once in the past. With their friendship reforged, Blackbeard, Vane, and other pirates prepare to defend Nassau from the imminent arrival of English fleet.