Famous Pirate: Stede Bonnet
The Incompetent Pirate
Stede Bonnet was an ex-army major and the Barbados plantation owner. Recognized as a "pirate gentleman" because of his cultured background, Bonnet was one of the most interesting and unique pirates in the Caribbean history. Although one of the least successful, he became very famous for some of his not-so-pirate actions.
Bonnet lived with his wife on a large estate near Bridgetown, Barbados after his retirement from the army. His profitable sugar plantation brought him wealth, a nice and a peaceful lifestyle. It was 1717 when this middle-aged gentleman suddenly turned to the piracy without any particular reason. The Rumor goes that Bonnet had much brawling with his wife, or that he was bored with ordinary life.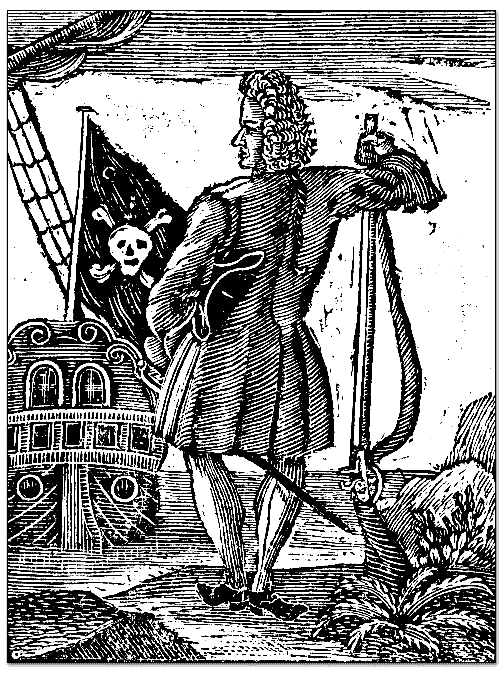 He had been at the sea very little and knew nothing about pirates' way of life. Therefore, unlike any other pirate, Stede Bonnet actually purchased his ship! It was the sloop "Revenge" with 10 cannons. He also hired around 70 good seamen from the local towns and began his "adventure" throughout the Caribbean Sea. Strategy of paying them well kept him from being deposed because he was really incompetent as a sailor and inexperienced leader. However, Bonnet was able to somehow capture and plunder a few smaller vessels in the coasts of Virginia and Carolinas, mostly because of his skillful crew.
In Florida he encountered a fearsome pirate Blackbeard and his ship, the "Queen's Anne Revenge". Infamous Edward Teach visited the "Revenge" and soon realized that Stede Bonnet was a pleasant pirate with good manners. They became companions and set sail together. Soon after that, Teach convinced Bonnet to leave the command of the ship because of his uselessness. Bonnet barely agreed and became a "guest" on the "Queen's Anne Revenge". One of Blackbeard's lieutenants took control of the "Revenge" and the crew accepted him.
After the famous siege of Charles Town in South Carolina which he witnessed as a spectator, Bonnet took advice from Teach and left immediately for Bathe Town, North Carolina to receive amnesty from the "pirate-friendly" governor Eden. Bonnet decided it would be better for him to become a privateer in the war against Spain, especially because he would be the captain once again.
However, Bonnet was tricked. Blackbeard took all Bonnet's valuables and only left him the "Revenge" and 25 pirates on a lone island. Bonnet once again took control of the "Revenge". He set off towards the Virgin Island in the war for England and France. Newly-promoter privateer also vowed the revenge on Blackbeard although he was unable to even pursue him.
Generally, the most Caribbean pirates who took pardon didn't settle with legal jobs and returned to the sea-robbing. Same goes for Bonnet. Not long had passed before he renamed his ship to "Royal James" and returned to the piracy. Bonnet now cruised with much more experience and easily plundered some ships on the Virginia coast. While he was undoing his repairs in the small port of North Carolina, he plundered a local ship, and the news reached the authorities in Charles Town. Other pirates besides him, like Charles Vane, caused a lot of trouble in that region of the Caribbean. So, the local authorities decided to hire a local ship owner, William Rhett, to hunt the pirates. He had two sloops: the "Henry" with 70 men, led by Captain Masters and the "Sea Nymph" with 60 men, led by Captain Hall.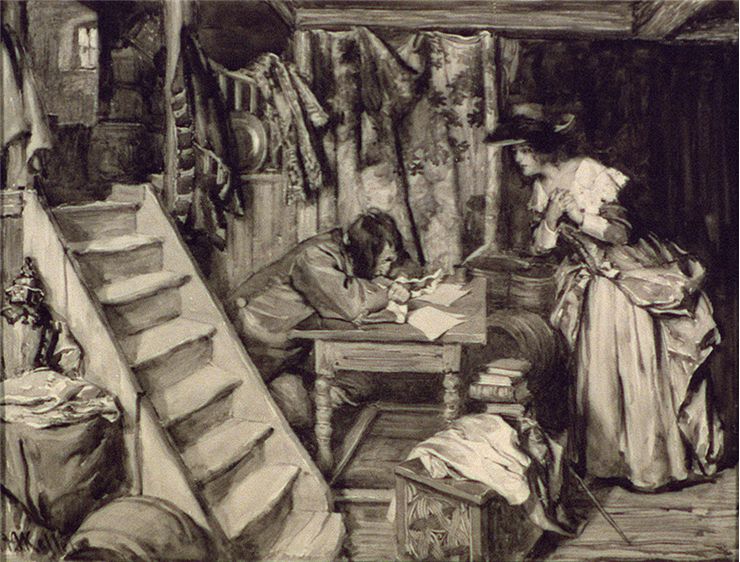 In October 1718, hunters found a pirate liar in Cape Fear Riverand and attacked Bonnet's flagship. The battle had lasted 5 hours when Bonnet was forced to surrender. Rhett was very surprised when he found out that Bonnet was on the ship because he was chasing Charles Vane. The pirates were taken to Charles Town, where townsfolk remembered Bonnet was a part of Blackbeard's crew during the infamous siege.
While imprisoned in a private house before a trial, Bonnet sent a letter to the governor, in which he asked to be forgiven. He also tried to escape but failed. Stede Bonnet was put on sentenced and hanged in November 1718 for piracy alongside 30 pirates.