Pirates of the Caribbean - The Curse of the Black Pearl
Pirate films started appearing in immediately after first popularization of films in the early 20th century, but the peak of their popularity happened in 2003 after the release of the "Pirates of the Caribbean: The Curse of the Black Pearl", action adventure swashbuckler film set not only in the world of pirates, but also corresponding fantastical world where all pirate legends came true to life. This kind of unique world was brought to screen by director Gore Verbinski who managed guide actors such as Johnny Depp, Orlando Bloom, Keira Knightley and Geoffrey Rush to performances that remained fondly remembered more than a decade later and a foundation for three upcoming sequels that all managed to preform very well at the worldwide box office.
First Pirates of the Caribbean film follows the adventure of the Captain Jack Sparrow (Depp), highly eccentric and almost perpetually drunk pirate captain who has found himself entangled in the quest to win back his cursed ghost ship Black Pearl from the ownership of the undead Captain Barbosa (Rush). The core storyline follows not only Jack Sparrow, but also young sailor Will Turner (Blum) who wishes to find his father who serves as slave on the Barbossa's crew, his lover Elizabeth Swann (Knightley) who was kidnapped by Barbossa because she owned necklace that was once onboard Black Pearl, and Navy officer Commodore Norrington (Jack Davenport) who wants to marry Elizabeth and chases her and her pirate compatriots all across Caribbean. By the conclusion of the film, Jack Sparrow manages to win back his ship and lifts curse from its sailors.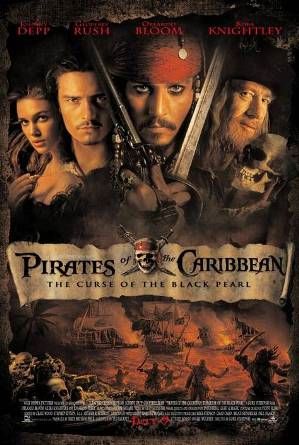 Fast and funny conversations, energetic action sequence, memorable music, great performances and phenomenal production values made Pirates of the Caribbean into unexpected worldwide hit, elevating career of Johnny Depp into one of the best paid Hollywood actors of upcoming years. Thee more films were produced after Pirates of the Caribbean: The Curse of the Black Pearl, with additional trilogy being planned to be filmed after them.