Pirates of the Caribbean - Dead Man's Chest
After phenomenal success of the original Pirates of the Caribbean film from 2003, Walt Disney Pictures started working on a sequel that managed to break $1 billion mark at worldwide box office after it appeared in the cinemas in the summer of 2006, solidifying the popularity of this film franchise and the iconic role of Captain Jack Sparrow. Sequel was created by original crew, including director Gore Verbinski, producer Jerry Bruckheimer and entire actor cast which was even expanded with the addition of Bill Nighy in the very impactful role of main villain.
"Pirates of the Caribbean: Dead Man's Chest" again follows the fantastical adventure set both above and below the seas of Caribbean, with main story following the curse of the Davy Jones, captain of the ghostly ship the Flying Dutchman. As with the first film, several separate storylines are intertwined, including wish of Captain Jack Sparrow to escape the wrath of Davy Jones, and adventure of Will Turner and Elizabeth Swann to find a magical compass currently in the possession of Sparrow that can locate the resting place of the legendary artifact Dead Man's Chest which represents the only chance to stop Davy Jones and his army od demonic pirate crew members.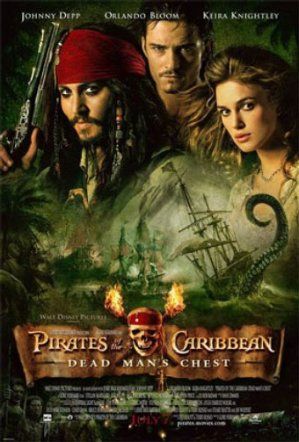 The comedic timing and spectacular action sequences that were introduced in the original film were even more expanded on in the sequel, although with this film first negative comments started appearing form critics and fans that action has become too hectic. However, on the other side, many praised introduction of Bill Nighy whose face was masterfully digitally enhanced with CGI effects. The film received four Academy Award nominations, and managed to win just the award for Visual Effects.