Crossbones - TV series based on The Republic of Pirates
The romanticized look of the age of pirates managed to retain its popularity more than two centuries after famous pirates roamed the seas of Caribbean, Atlantic and Indian Ocean. Among such figures, pirate captain Edward Teach became infamous under the name of Blackbeard. Today regarded as the most popular romanticized figure from the age of piracy, Blackbeard appeared in many works of fiction, including book "The Republic of Pirates" written by Colin Woodard that served as the foundation for the building of the Television series "Crossbones" produced by NBC network in 2014.
The main star is John Malkovich, celebrated Hollywood actor that in this show acts the role of charismatic Edward "Blackbeard" Teach who managed to survive the ambush set to him by Lieutenant Robert Maynard. Instead, show starts with the new plan of English government to locate true Edward Teach and assassinate him. The show starts with the infiltration of the British spy Tom Lowe (played by Richard Coyle) into the crew of Blackbeard's ship, over the first season he becomes close with several members of the crew. By the end of the season one (the only one that was ever produced), Blackbeard manages to fake his death yet again with the help of Tom Lowe.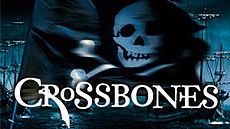 The show gathered mixed to positive reviews form critics and audience, receiving praise for the acting performance of John Malkovich, but with poor character connections and central storyline that failed to provide viewers with many reasons to watch show regularly.