Blackbeard in the Pirates of the Caribbean franchise "On Stranger Tides"
The modern motion pictures industry has used the pirate world as an inspiration for many films, but none has taken advantage from this popular age like the Disney's "Pirates of the Caribbean" franchise that has almost single-handedly managed to reinvigorate the world's' fascination with pirate world and bring to the forefront of pop-culture attention.
Even though the incredible success of first Pirates of the Caribbean movie has pushed the creators of this franchise to implement in it as many historical tie-ins as they can, the most feared pirate of all time Blackbeard was introduced only in its fourth installment. "Pirates of the Caribbean: On Stranger Tides" released in 2011 featured one of the most popular and viewed adaptations of Blackbeard that movie screen has ever received. Played by English actor Ian McShane, this film version of Captain Edward Tech was created to look like a perfect representation of a heightened and romanticized version of this famous pirate captain, utilizing as much visual design, flamboyance and artistic discretion as possible. All this made Ian McShane into very striking character, which was a goal of the producers because his purpose in the film was to serve a role of the main antagonist who would chase the main hero of the movie (fictional pirate Captain Jack Sparrow played by Johnny Depp) across the seas all the way to the location of the fabled Fountain of Youth.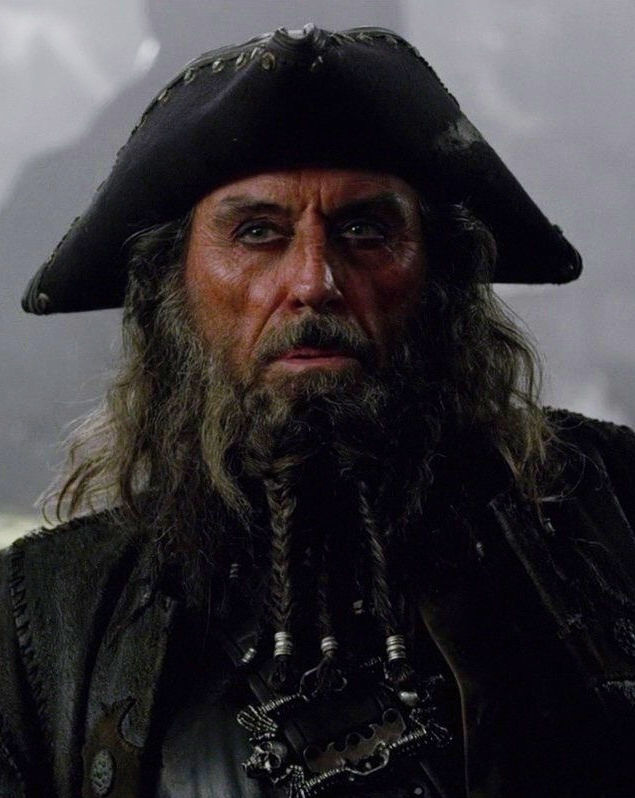 To make this movie version of Blackbeard in line with very fantastical version of the world that is depicted in Pirates of the Caribbean films, this character was imbued with several mystical Black Arts powers such as an ability to resurrect people as zombies, control the ships using 3 gems of Triton and even miniaturize captured vessels into his collection of ships in bottles. In this movie adaptation, he fathered daughter Angelica (played by Penélope CruzI) who serves on his ship Queen Anne's Revenge as his 1st officer.