Famous Pirate: Grace O'Malley
Irish chieftain Grace O'Malley is today remembered not only as one of the most important persons during one of its most turbulent times of Irish history but also as a fierce pirate who used her large naval fleet to protect Irish to secure large wealth.
Grace O'Malley was one of the best remembered and influential chieftains of the Ó Máille clan in the west Ireland. She was born as a royalty and was a competent leader of her land, but because of her fascination with the sea and warfare, she fought with all her available means to ensure the independence of her lands against spreading the influence of England. Even though she was a woman and a royal who managed during her life to form notable political connections with neighboring nations, she became a pirate leader whose exploits at sea enabled her to gather significant wealth. Her unorthodox life and years of sailing the sea as a pirate leader have built Grace O'Malley into one of the most important figures from Irish history and also a significant character in the Irish folklore where she is sometimes called "The Sea Queen of Connacht".
Grace O'Malley was born under the name of Gráinne Ní Mháille in Ireland around 1530, as a daughter of the wealthy nobleman and sea trader Owen O'Malley (Eoghan Dubhdara Ó Máille). Contemporary historical records have many other spellings of her name, including Gráinne O'Maly, Graney O'Mally, Grainne Ní Maille, Grayn Ny Mayle, Granny ni Maille, Grany O'Mally, Grane ne Male, Grainy O'Maly, and Granee O'Maillie. During her youth the Ireland was provisionally under English control, who was ruled by the Henry VIII was King of England. However, in those years Tudor conquest of Ireland gathered pace and Irish nation became under attack and forced slowly to give up their independence. This did not sit well with the O'Malley clan which was one of the several clans who defied the will of England. Grace was brought up in the family residences of Belclare and Clare Island as a daughter of the chieftain whose legacy went all the way back to the Maille mac Conall, grandson of the king Ui Maill who ruled in Ireland Middle Ages. She was formally educated and learned to speak Latin. Even though there are no historical records of it, it is also highly possible that during her youth she was also fostered in another family for several years of her life, which was in line with the tradition among Irish nobility of that time.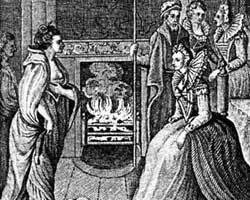 O'Malleys managed to establish themselves as one of the rare seafaring clans of Irish people, managing not only to find fortune in trade and naval warfare but also fortifying their lands with Coast castles that protected them from invaders. Because of this long history of naval life, Grace O'Malley was fascinated by the sea her entire youth, and she ignored the influences of her entire family that wanted to steer her to the life at land. As the legend says, at the young age she cut her hair and dressed as a boy in an attempt an to become a sailor on her father's ship. Upon discovering her efforts, her entire family laughed and gave her the nickname "Grainne Mhaol" by whom she is known even today. If the legends can be trusted, she even survived a pirate attack by saving the life of his father during a battle on deck, managing to change the tide of the battle. Although she spent much of her youth and young adulthood on the ship, she received formal education and learned to speak foreign languages.
When she was around 17 years of age in 1546, O'Malley married to the Dónal a Chogaidh Ó Flaithbheartaigh also known as "Donal of the Battle", heir of the O'Flaherty clan and holder of large land in Iar Connacht. She had three children with him - two sons (Owen and Murrough) and daughter Margaret. In 1566 O'Malley married again, this time for Risdeárd an Iarainn Bourke, also known as "Iron Richard". The marriage was a political one and was performed not only so that O'Malley family could enlarge their lands, but also so that they could grow their naval fleet and take advantage from many ports Bourke controlled. The political nature of this marriage showed itself clearly one year after the wedding when O'Malley divorced Burke and took with her the castle of Rockfleet which was protecting the harbor of very strong significance to O'Malley fleet. She bore one son for Bourke named Tiobóid, who would eventually reach the title of 1st Viscount Mayo in 1626 by Charles I of England.
As her influence rose as an international trader, owner of large land in Ireland and a pirate who harassed English holdings and trade, she became involved in several political struggles with surrounding nations. Grace did not hold much love towards the English crown (who in the previous year's took more and more Irish lands under their rule), and in the following years, she entered into open rebelling against the England. She several times offered her fighting men to the Lord Deputy of Ireland who protected Irish and Scottish interests against England.
Her exploits at sea created several folk tales and legendary exploits that are still told today in Ireland. In 1576 O'Malley sailed to Howth Castle to visit Lord Howth, only to find that the Lord was away and the gates of the castle are closed to her or any other visitor. Feeling insulted, she kidnapped the Lord Howth's grandson and heir, Christopher St Lawrence, 10th Baron Howth. He was eventually released under the promise that Howth Castle doors will always remain opened to unexpected visitors, with a place for them ready at the table. Lord Howth promised to uphold this agreement that is honored even to this day by his descendants.
By 1593 Grace O'Malley was in conflict not only with England but also with Kingdom of Ireland, who she believed was trying to limit her influence over the large land she owned. She was even attacked several times by her fellow Irishmen from other clans, but all those attacks were swatted away on the walls of her strong castles. During that same year, English governor of Connacht, Sir Richard Bingham, managed to capture her two sons Tibbot Burke and Murrough O'Flaherty and her half-brother Dónal na Píopa. O'Malley promptly sailed for London to personally speak to Elizabeth I, Queen of England and secure their release. It was reported that she appeared in front of the queen in a fine gown, did not bow to her because she felt that she was not a rightful ruler of Ireland, and talked with her with Latin. Some stories tell that guards searched O'Malley in front of the Queen and found a hidden dagger, but such rumors were never confirmed. After the long talk had been finished, the Queen and O'Malley came to the agreement in which English would remove Sir Richard Bingham from Ireland, while O'Malley would stop supporting Irish lords who fought for the independence of their lands. Upon returning to Ireland, Grace O'Malley saw not all demands met (Bingham was gone, but the castles and lands he took from O'Malley family remained still in English hands), so he continued backing Irish independence during entirety of the bloody Nine Years' War between 1594 to 1603, the largest open conflict against the English rule in Ireland during Elizabethan era.
During the entire 70 years of her life, Grace O'Malley managed to retain the reputation of fierce leader and smart politician. She successfully protected the independence of her lands during the time when much of Ireland fell under the English rule. She finally died in Rockfleet Castle in 1603, the same year as the Queen of England, Elizabeth I. To this day, Grace O'Malley is used as a personification of Ireland and an inspiration for many modern songs, theater productions, books, and a name for a wide variety of sea vessels and public objects and places.